It's one of the last warm fall days and bumblebees are actively foraging on the remaining flowers in our pollinator habitat, and scraggly California poppies and asters are some of the last holdouts. Creating pollinator habitat is quite easy. If you build it, they will come. Pollinators face many issues, but one of the biggest is habitat loss. It is estimated that more than 1,300 types of plants are grown around the world for food, beverages, medicines, condiments, spices and even fabric. Of these, about 75% are pollinated by animals.
More than one of every three bites of food we eat or beverages we drink are directly because of pollinators. Aside from pollinator services, they are also a major part of the food web and are an important source of food for birds, especially for when they are rearing their young. Installing pollinator habitat also benefits soil health by having a diverse set of plants that support soil microbes. Additionally, having a perennial habitat means less tillage, living roots throughout the year, and the pollinator habitat covers the soil.
Planting a wildflower seed mix is a great way to create habitat for native pollinators, beneficial insects and honeybees. However, choosing which seed mix to buy can be a daunting task as there are many different mixes available on the market. The USDA NRCS Corvallis Plant Materials Center spent four years studying pollinator mixes to determine the most important factors to consider:
Establishing season-long bloom is important for sustaining pollen and nectar resources throughout the growing season.
At least three different species flowering at any given time.
For perennial habitat, mixes that have about 25% annuals and 75% perennials seem to create a balanced bloom over the lifespan of the habitat.
Grasses are good to include in small amounts and only use bunchgrasses (not rhizomatous grasses.)
Season-long Bloom
Season-long bloom can be achieved by focusing on early blooming and late blooming species, and most mixes will have plenty of "mid-season" blooming plants. Overwintering pollinators such as bumblebees heavily rely on early blooming plants as primary resources to re-grow their colony. Providing late blooming plants is also very important for pollinators because there are less plants blooming in late summer and fall.
In unirrigated systems, finding late blooming plants can be challenging, but asters tend to grow well without irrigating and bloom until winter shuts them down. Some annuals, such as California poppies, bloom well into fall. When looking over the species list for a particular mix, be sure to understand when each species blooms and make sure to select mixes with early and late blooming species.
A brochure that has a bloom calendar on page 4 which covers some of the more common species used in pollinator mixes in western Oregon and Washington can be found on the NRCS website at nrcs.usda.gov/Internet/FSE_PLANTMATERIALS/publications/orpmcbr13465.pdf.
A similar brochure that has a bloom calendar on page 4 which includes species more common in Montana and Wyoming can be found at nrcs.usda.gov/Internet/FSE_PLANTMATERIALS/publications/mtpmcbr13642.pdf.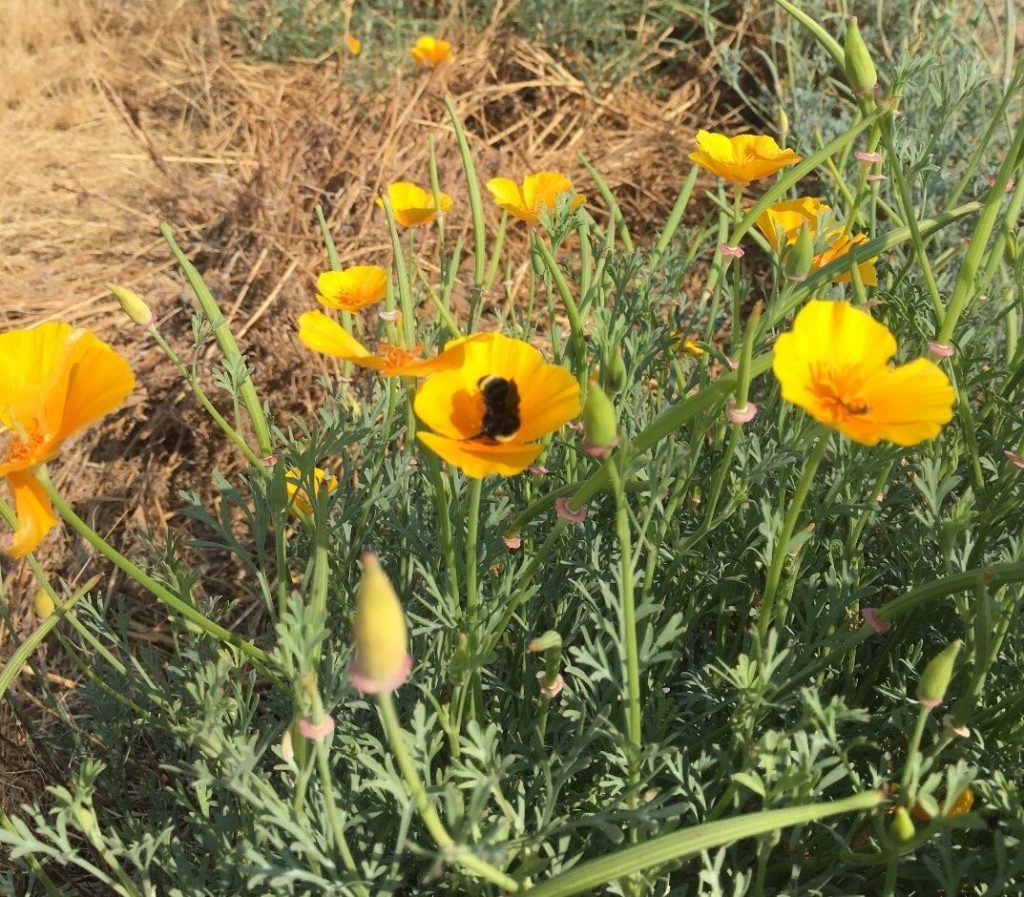 Multiple Species
Having multiple species blooming at any given time provides a varied diet for generalist pollinators and can also host a variety of specialist pollinators who might be attracted to a certain color of flower or can only access a certain shaped flower. In other words, floral diversity is also as important as floral abundance.
Annuals vs Perennials
Annuals are the easiest way to provide floral abundance. Annuals also fit very well into many farming systems and can be used as "season extenders" as they are often some of the first species to bloom and can be grown later in the season to fill the late-season gap. Most wildflower mixes are a blend of annual and perennial species because most people are looking for a habitat that they do not have to re-install every growing season.
Most farms have some areas that can be set aside and dedicated to pollinator habitat. Mixes that include perennial and annual species are the best way to create permanent habitat. The annuals provide first-year bloom and cover while the perennials are becoming established, but the annuals usually disappear over time. Short-lived perennials bloom heavily in the second year and usually re-seed themselves. Long-lived perennials will continue to bloom every year and expand over time.
Pollinators evolved with native plants, so they seem like the best choice for the bulk of the pollinator plants we should use. The biochemistry of native plant pollen and nectar is the best match for the biochemical needs of native pollinators. However, many pollinators are generalists and will use non-native plants. Native plants are adapted to your area, and if you are in an area with summer drought, native plants should bloom and thrive with low inputs and no irrigation.
Best Practices
Installing a pollinator seed mix is similar to seeding a lawn. All existing vegetation needs to be killed and the soil needs to be loosened so the seeds can have good soil contact. Wildflower seeds are very small and should not be covered by more than 0.25 inches of soil. In temperate climates, fall seeding is best as native plants will grow in the fall and winter. In areas with cold winters, spring seeding may be more successful depending on the species you are using. Usually, the vendor will provide information about when it's best to seed their mix.
Weeds tend to be the most challenging aspect. If establishing pollinator plants from seed, you need bare ground. This involves killing some if not all of the existing plant community and can be done by smothering, solarizing, tilling or chemicals. And in most soils, there is a massive bank of weed seeds waiting to germinate as soon as the soil is bare. So if the weed seed bank can be reduced, your seeds will have less competition. Many "weeds" are beneficial to pollinators but are intolerable in farming systems. Therefore, it is up to each farmer to decide if the weed pressure is acceptable.
Creating pollinator habitat is simple and easy to do in all types of farming systems. For more information, refer to our Pollinator Plants for Oregon Tech Note at nrcs.usda.gov/Internet/FSE_PLANTMATERIALS/publications/orpmstn7451.pdf.
There are Plant Material Centers in every region of the country; visit our National website for more information about the center that serves your area at nrcs.usda.gov/wps/portal/nrcs/main/plantmaterials/pmc/. For NRCS financial assistance or technical assistance in creating pollinator habitats, find your local USDA Service Center at offices.sc.egov.usda.gov/locator/app.