Hemp is one of the oldest crops farmed by man. It's been grown since 8,000 BCE, the very beginning of human agriculture. Archeologists found traces of hemp in what is now Taiwan and China.
As for hemp history in the U.S., the plant is as American as apple pie. It was first grown in the U.S. in Jamestown, Va. and was a crop the colonists were required to grow. George Washington and Thomas Jefferson both grew hemp. Pioneers used hemp to make wagon coverings.
Hemp uses less water, chemical fertilizers, pesticides and herbicides than many other crops. It's efficient at sequestering carbon dioxide from the atmosphere, making it a lower footprint crop than many others. One acre of hemp will take in 10 to 15 tons of CO2 in a growing season, which is equivalent to the average amount of CO2 contributed by one person in a year.
As far as eco-friendly fibers and fabrics go, hemp is up on the list with jute and organically grown cotton, flax (linen) and bamboo. Hemp seed can be used for animal feed and the stem fiber as insulation and animal bedding.
Hemp is also good for the soil. A farmer will get more corn yield from a field if it was first planted in hemp. Wheat and barley are also good crops to plant following a hemp harvest. With all of its potential ecological benefits, some growers are looking to make inroads into organic certification for hemp and cannabis production.
Going Organic
Cassandra Maffey is the vice president of cultivation at Hava Gardens, an organic cannabis growing operation in De Beque, Colo. and the largest living-soil cultivation of cannabis in the state. Although Hava Gardens is a new business (they bought their greenhouse and revamped it in 2020 and harvested their first crop in 2021), Maffey has 20 years of regulated cannabis growing experience in both the U.S. and Europe.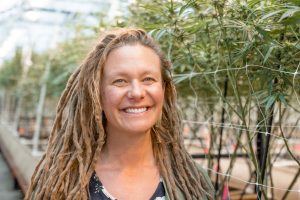 Maffey said she learned about organic growing through trial and error. "I tried synthetic. I tried aeroponics and a couple different styles of hydroponics. I was never as happy with the quality as when I went organic."
Hava Gardens grows their plants in a greenhouse, but even under cover, Maffey is still a big believer in growing plants in soil teeming with life.
"Living soil is rich in organic matter and probiotic microorganisms. Living soil is really just mimicking what exists in nature. Soil isn't meant to be used once for a crop and then thrown away," Maffey said.
She prefers to create an environment that will slowly consume what she's putting into the soil. "At Hava Gardens, we create a great ecosystem in soil for organisms to thrive."
Maffey likes to use organic kelp and alfalfa meal, along with various crushed minerals, testing the soil periodically for nutrients and micronutrients. She uses dry bulk material—dried kelp, for example, instead of kelp extract. The kelp meal is minimally processed. It acts as a slow-release fertilizer in the soil, naturally. With kelp meal, the fermentation process can be done by the soil. With kelp extract, the fermentation is done by the nutrient manufacturer. By purchasing kelp meal, a grower isn't paying to basically ship a lot of water, Maffey noted.
Living Soil Produces Less Waste
"If you use your soil one time and then throw it out, that's several tons of waste that would go directly to a landfill in many cases," Maffey said.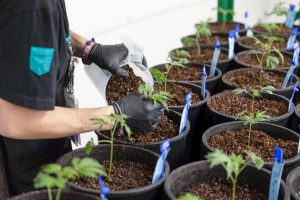 In the best-case scenario, the used soil is going to an industrial composting facility, but it takes fossil fuels to get it there, Maffey points out, and could mean extra trips up to five to six times a year.
Maffey starts with a soil mix that includes materials such as peat moss and worm castings. So, how do the microorganisms get into the soil?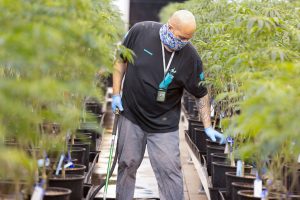 "Oftentimes, there are mycorrhizal fungi in the soil mix. A lot of that soil food web gets introduced passively," she said, citing nematodes as an example. "There are nematodes covering everything all over the world. Our broad-spectrum inoculant is worm castings. Everything that the worms consume is introduced into the soil."
Sometimes, a little more boost in microorganisms is warranted. "We have some inoculants that we can use from time to time to make sure we have a pretty diverse microsystem," Maffey said. "A lot of people have wound up spending a whole lot of money on microorganisms that maybe only live for a couple of days."
Growing in a Greenhouse
Growing plants in a greenhouse leaves a smaller carbon footprint than growing indoors, said Maffey. When you're growing in a greenhouse, you use less HVAC (heating, ventilation and air conditioning) and lighting than you would growing in an indoor facility where growers have to provide 100% of the light.
"Lights create heat, so then you have to supply 50% to 80% more HVAC," said Maffey. For cooling, Hava Gardens uses a wet wall to water cool the growing environment. "We're not using refrigerant."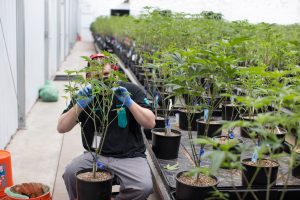 Growing cannabis in a greenhouse won't work in every location. "In western Pennsylvania or the Midwest, for example, where it's cloudy and damp for a month at a time, it can be really challenging to pull off a great cannabis crop in a greenhouse in the winter," said Maffey. "You always have to be compensating for weather."
It's important to choose your greenhouse location; someplace warm and dry with lots of sunlight, Maffey notes.
Eyes on the Plant
You can't let pests get a foothold. Hiring more people will help with that.
"I think if you're aspiring to be an organic cultivator, one of the most important things is integrated pest management. You need more people, more eyes on the plants to be looking for pests. More pruning to allow air to move through the canopy," Maffey said.
Employee training is also important. "In an organic facility, you need to make sure your people are really well trained. Then they might say, 'You've got Pythium in the third bay.' As long as it hasn't gone too far, you can go ahead and address that right away," said Maffey.
With synthetic methods, a grower might let an issue go too long and then try to correct it with heavy doses of chemical sprays.
Sustainable-Growing Certifications
In the cannabis world, two California farms are the first to become OCal certified cannabis farms. The certification comes through California Certified Organic Farmers (CCOF). OCal's standards closely mirror the USDA's National Organics Program (NOP). It's hailed as "Comparable-to-Organic." The certification goes to Sensibolt Organics out of Humboldt County and The Highland Canopy at Sonoma Hills Farm out of Sonoma County. Sonoma Hills Farm's pasture was also recently certified organic along with their flower and vegetable crops.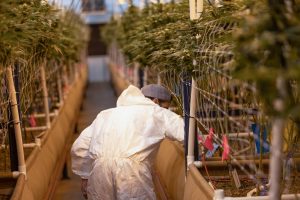 The process to become OCal certified involves filling out an application, a review, an inspection, a compliance review and, finally, certification. OCal is a California-specific program, but if cannabis becomes legal at the federal level, the USDA would likely offer a similar organic certification to qualifying farms across the nation.
Sonoma Hills Farm and Sensibolt Organics are both also Sun+Earth certified. That certification process is different than OCal. Sun+Earth is a non-profit certification for regenerative organic hemp and cannabis small-scale family farmers that grow their crops outdoors under the sun. Sun+Earth not only looks at a farm's sustainable growing practices but also considers how a farm treats its employees and how involved the farm is in the community. Examples of community involvement include helping to organize farmers markets, taking part in CFA or even picking up litter along rural roads.