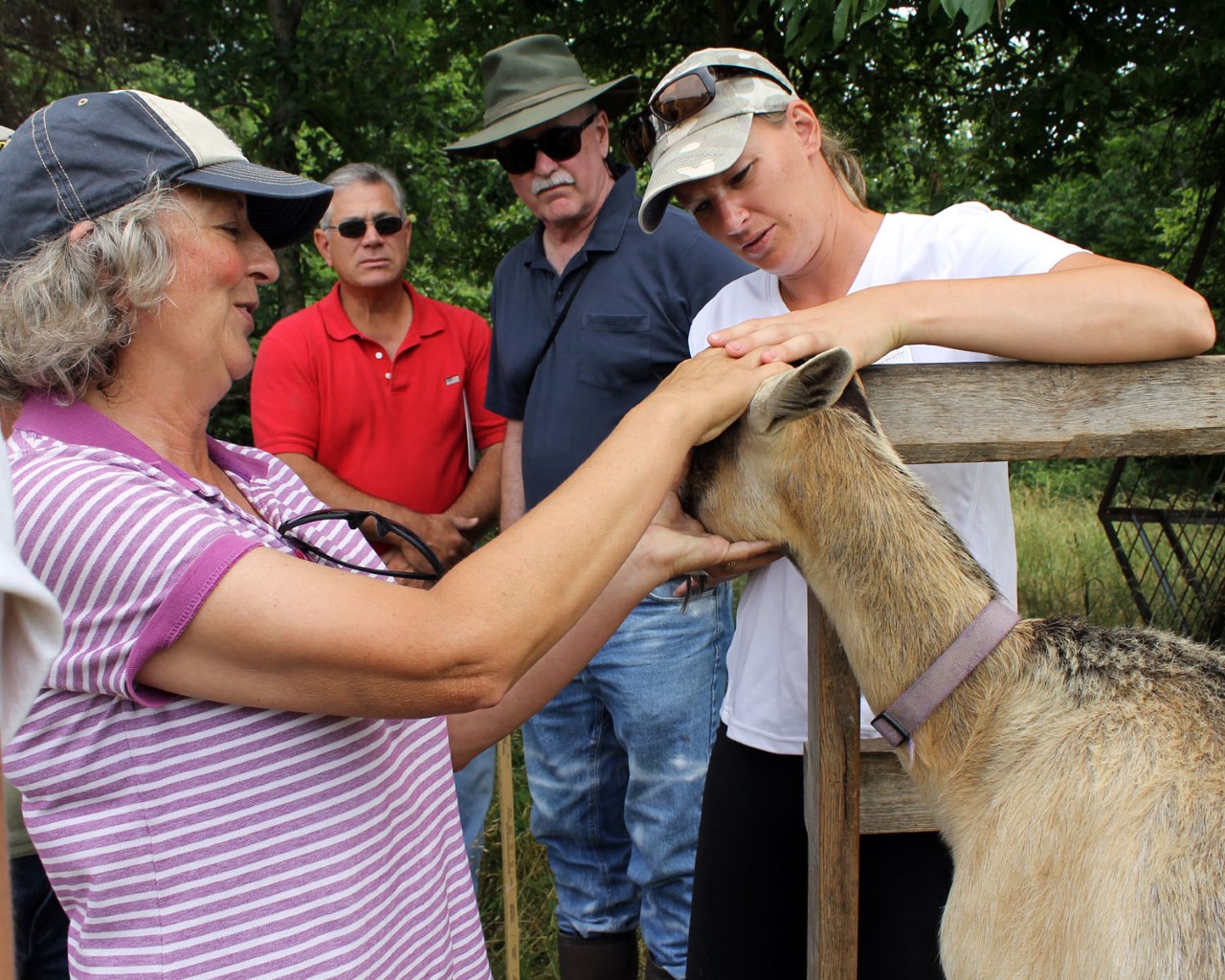 Sara Creech, an Air Force veteran, has been farming in Indiana since 2012, and says she knew from the beginning that she wanted her farm to be certified organic. She's one of more than 350,000 veteran or active-duty service members involved in farming in the U.S. (2017 USDA Ag Census). She's also one of the hundreds of farmer veterans who have completed the Armed to Farm training program developed by the National Center for Appropriate Technology (NCAT).
NCAT's Armed to Farm
Armed to Farm is a sustainable agriculture training program for military veterans. NCAT, a national nonprofit organization based in Butte, Mont., arranged the first Armed to Farm training through a Beginning Farmer and Rancher Development Project with the University of Arkansas. The program has expanded over the past eight years with support from a cooperative agreement with USDA-Rural Development.
Since launching the program in 2013, our guiding goals have been:
To train veterans and their partners to operate sustainable crop and livestock enterprises.
To create a network of veterans and their families who are starting careers in sustainable agriculture.
To provide technical assistance to participants as they start and improve their farming operations.
Over the past eight years, Armed to Farm has supported more than 800 veterans from 45 states with hands-on and classroom learning opportunities. Farmer veterans learn how to make a business plan and market their products, set business goals and develop lasting mentorships with seasoned farmers. Participants meet representatives from USDA agencies, including the Farm Service Agency, Natural Resources Conservation Service and the Small Business Administration's Small Business Development Centers. They learn how to access farm programs for help with business development and improving farm infrastructure.
Tours and Training
The training also features farm tours and hands-on activities at a variety of successful farms, some of which are veteran-owned. Participants learn from seasoned farmers and gain direct experience on livestock, vegetable, fruit and agritourism operations.
Armed to Farm now offers three training series:
Flagship, weeklong hands-on and classroom training for new farmer veterans.
Armed to Urban Farm's weeklong training focuses on veterans who are new farmers in urban areas.
Armed to Farm 2.0 is advanced sustainable agriculture training designed for farmer veterans who have completed a previous weeklong session. This training provides in-depth curriculum on business planning, financial management, marketing and scaling-up production. We tailor hands-on activities at area farms to participants' needs and focus on more advanced production, marketing and entrepreneurship techniques.
Farmer veterans who complete one of the training series stay connected to their peers and often develop close ties to other farmers. The Armed to Farm program also provides opportunities for in-person and virtual veteran networking events as well as limited scholarships for veterans to attend agricultural conferences and trainings presented by other organizations.
Armed to Farm educational opportunities continue after the weeklong trainings with webinars, podcasts and other online resources provided through NCAT's ATTRA Sustainable Agriculture Program. The ATTRA program has built a trusted knowledge base over the last 30 years on everything from livestock, horticulture and agronomy to marketing and farm energy.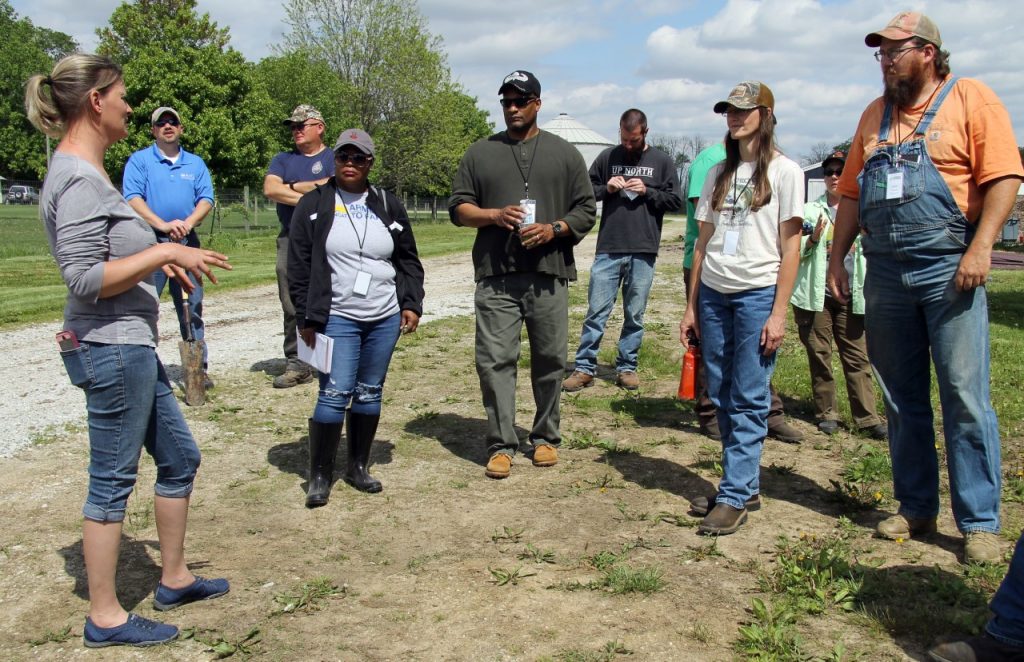 The ATTRA website hosts more than 500 farmer-friendly publications on agricultural production and marketing, plus webinars, tutorials, videos, podcast episodes and more. The website includes an extensive section on organic farming. This multimedia knowledge base is available free online, and our staff members are always available to provide one-on-one technical assistance. To contact our agriculture specialists, farmers can:
Call ATTRA at 800-346-9140 (English) or 800-411-3222 (Spanish)
Email or text questions to askanag@ncat.org
Submit questions through our website chat box at ATTRA.NCAT.ORG
Why Veterans Choose Agriculture
Over the years, we've learned that veterans are drawn to farming for many reasons. They find satisfaction in problem-solving and overcoming the challenges of farming, being their own boss and providing support and employment for other veterans. Many veterans also are drawn to farming because working outside with plants or animals, and feeding healthy food to their families and communities, helps them deal with post-traumatic stress disorder (PTSD) and other effects of being deployed.
As Creech said recently, "Farming can be a way to use nature as therapy."
Studies and anecdotal evidence show farming has proven therapeutic value. Another Armed to Farm alumna, an Air Force veteran, farmer and doctor at Walter Reed Hospital, prescribes gardening and farming to her patients and has seen positive results.
Veterans make great farmers because they are not afraid of hard work or setbacks. They're not deterred when things go wrong, and in farming, things always go wrong! But when veterans encounter an obstacle, they quickly reassess, formulate a new plan and follow through. The mission mindset they honed during military service is a great asset for farming. They also have an entrepreneurial spirit. Many veterans pursue not just one or two farming enterprises, but also produce value-added products and have creative farm business ideas.
One Veteran's Story
Although Creech had no farming experience when she moved to her place back in 2012, you would never guess it seeing her farm today. NCAT's Armed to Farm Program Director Margo Hale and I had the privilege of visiting Sara's operation two years ago, Blue Yonder Organic Farm. With help from Creech, along with the Farmer Veteran Coalition, Indiana and AgrAbility, we hosted an Armed to Farm training in Crawfordsville, Ind. in 2019. We spent a sunny May afternoon with a group of around 20 veterans touring Creech's farm and learning from her experiences.
Blue Yonder Organic Farm is a picturesque 43-acre diversified farm about an hour west of Indianapolis. Creech produces certified organic chicken, beef and lamb as well as certified organic vegetables. In addition, she sells eggs, honey, mushrooms and maple syrup. She sells her products through farmer's markets and some contract growing.
In a recent podcast interview with Margo, Creech shared that the staff from her local Natural Resources Conservation Service (NRCS) service center have been key allies in her farm's transformation. Although they had never worked with an organic producer before, they were excited to help her build the farm. Through the NRCS EQIP program, Creech has constructed two high tunnels that help protect her crops and extend the growing season. She also has participated in NRCS fencing and large-acre pollinator planting programs. Creech credits the USDA Organic Certification Cost Share Program with helping make certifying her farm more affordable.
It is inspiring to have watched Creech progress from a beginning farmer in 2013 when she attended our very first Armed to Farm training in Fayetteville, Ark. to a successful farmer and seasoned mentor teaching a new cohort of farmer veterans. And Creech is just one of many Armed to Farm alumni finding and sharing their passion and purpose in farming. As agriculture educators, we really couldn't ask for more.
Additional Information
Learn more about Armed to Farm at ARMEDTOFARM.ORG; there, you can join our listserv, sign up for email alerts or follow our Facebook page to keep in touch and learn about Armed to Farm news, events and resources.
ATTRA Podcasts featuring Armed to Farm alumni: Forty Years Later, Mr. Burch is Back on the Farm; Veterans Discuss USDA Programs; Veteran Tells Dusty Hound Story; Veteran Helps Veterans Learn to Farm; From "Shovel and Rototiller" to Conservation Champ; and Camaraderie at Armed to Farm. ATTRA.NCAT.ORG