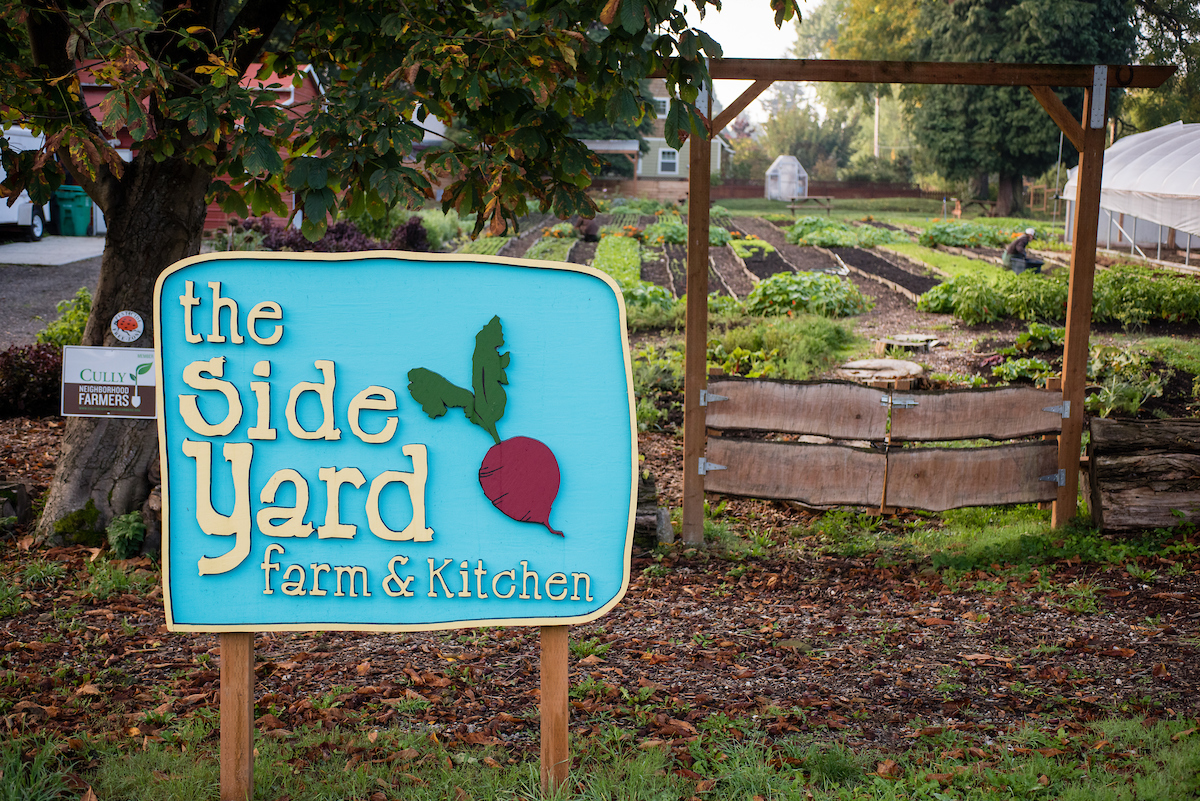 Urban farming is more than just producing food. It also includes agritourism producing projects and activities on the farm. Urban farming is becoming more popular because it focuses on sustainability, affordability, health and convenience.
Stacey Givens, owner, farmer and chef of Side Yard Farm and Kitchen (thesideyardpdx.com) has a one-acre farm in northeast Portland, Ore. She feels strongly that urban farms are important because of their accessibility.
"We're near bus lines, we're really easy to get to, and we host a lot of schools," Givens said, from grade school, to college, to culinary schools.
Givens' ground is farmed from the end of February to November. She and her crew work long hours and take a break in the winter to regroup and rebuild the soils.
"We interplant and do intensive farming practices," Givens said, and what she gets out of her small plot of land is the equivalent of two to three acres.
"When we're planting lettuce, we're plopping in Cipollini onions or Japanese leeks in between," Givens said, adding it's all planted very close together.
"We host a lot of events out here," Givens said, and they are a main revenue stream. Some of the events from the farm include:
Lost Table Grief Group
Yoga on the Farm
Comedy Night
Farm Brunch
Bike In Movie Night
Bike In Movie Night is popular with about 120 attendees, and outside vendors are invited to participate, Givens said.
One of Givens' favorite events is the Lost Table Grief Group started after her father died nine years ago. The group meets monthly, and it has grown from five to 300 to 400 people, but each session is limited to 25 people. Attendees bring a dish to share that is usually a favorite that their loved one enjoyed.
"We just eat, and we cry, and we laugh, and share our grief, which is really beautiful," Givens said.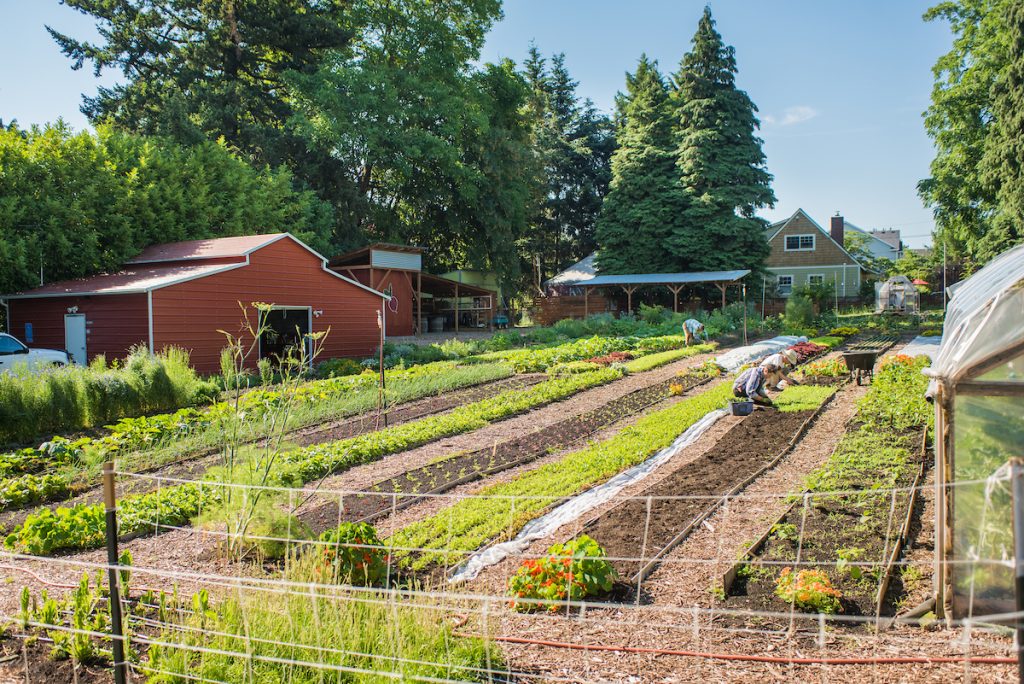 Community Sponsored Agriculture (CSA)
With the COVID-19 outbreak and shutdown, Givens saw many of her restaurant customers disappear, so in response, she immediately ramped up her CSAs and started an online farm store that's been doing extremely well.
"We just pivoted really fast, and we have an online store which we sell all our produce," Givens said.
There is a full produce menu online from lettuce mix, to radishes, to turnips that are continually updated. Farmer chef boxes are created depending on what's available that week.
There are also value-added items made on the farm including salad dressings, jams and canned vegetables. Some of Givens' favorite vendors in Portland are highlighted with a variety of items to choose from.
Givens recently purchased her farm with a loan from USDA. She reached out to USDA 18 months ago about buying the one-acre property that has no house onsite that she'd been farming for more than a decade. They turned down her application because the property is zoned residential, but Givens kept applying and getting turned down.
"I thought I'd never be able to buy it," Givens said.
Givens persisted and finally reached out to her congressman, an advocate for urban farming and local food. The congressman made some calls, and after a few months, she reapplied and was granted a loan.
"I'm the first urban farm in the nation to ever get a loan that is residentially zoned to buy an urban farm, which is pretty cool," Givens said.
"Our goal is to preserve the land because Portland's changing so much," Givens said, adding many urban farms have closed because the landlords have decided to develop the property into condos.
"I wanted this for future generations to come. It will never be developed, and that's the deal I made with my landlord as well. It will always be a farm," Givens said.
The Urban Homestead
Anaïs Dervaes is the co-owner of Urban Homestead (urbanhomestead.org), a family farm in Pasadena, Calif.
Dervaes said her family turned their front yard into edible plants in the late-80s.
"If an acre is a dollar, we're farming on ten cents," Dervaes said.
"When we moved here in '85, our neighbors had chickens running around, they had corn growing in their front yard so we took out the lawn and started growing food," Dervaes said.
"We did worry what the city of Pasadena would think because, oh no, we're growing food, and we didn't have a lawn. Actually, it's been a really wonderful relationship with the city," Dervaes said, adding the city now pays residents to remove lawn and put in food or native plants.
When the restaurant and catering clientele completely dried up due to COVID-19, the farm box program/CSAs tripled in size, Dervaes said.
"Now, we're doing more farm boxes, so we're trying to see how we can bring back in the restaurant and catering clientele, just slowly," Dervaes said.
With the shutdown, Dervaes missed their busiest, most lucrative season which is spring—Mother's Day, graduations, weddings—events where edible flowers and all the nice little accouterments that go along with catering platters, she said.
"That was a wash this year," Dervaes said.
Urban Homestead also canceled all their workshops and tours on the farm that included their popular Elements of the Homestead tour that features farm production, growing soil, animals, energy outpost and water conservation.
The tours were monthly and open to the public. Scouts and students came through on an almost weekly basis.
"Everybody wants to see how we do it, and we would also go out and teach at the local library and interact with the community, too, through offsite workshops," Dervaes said.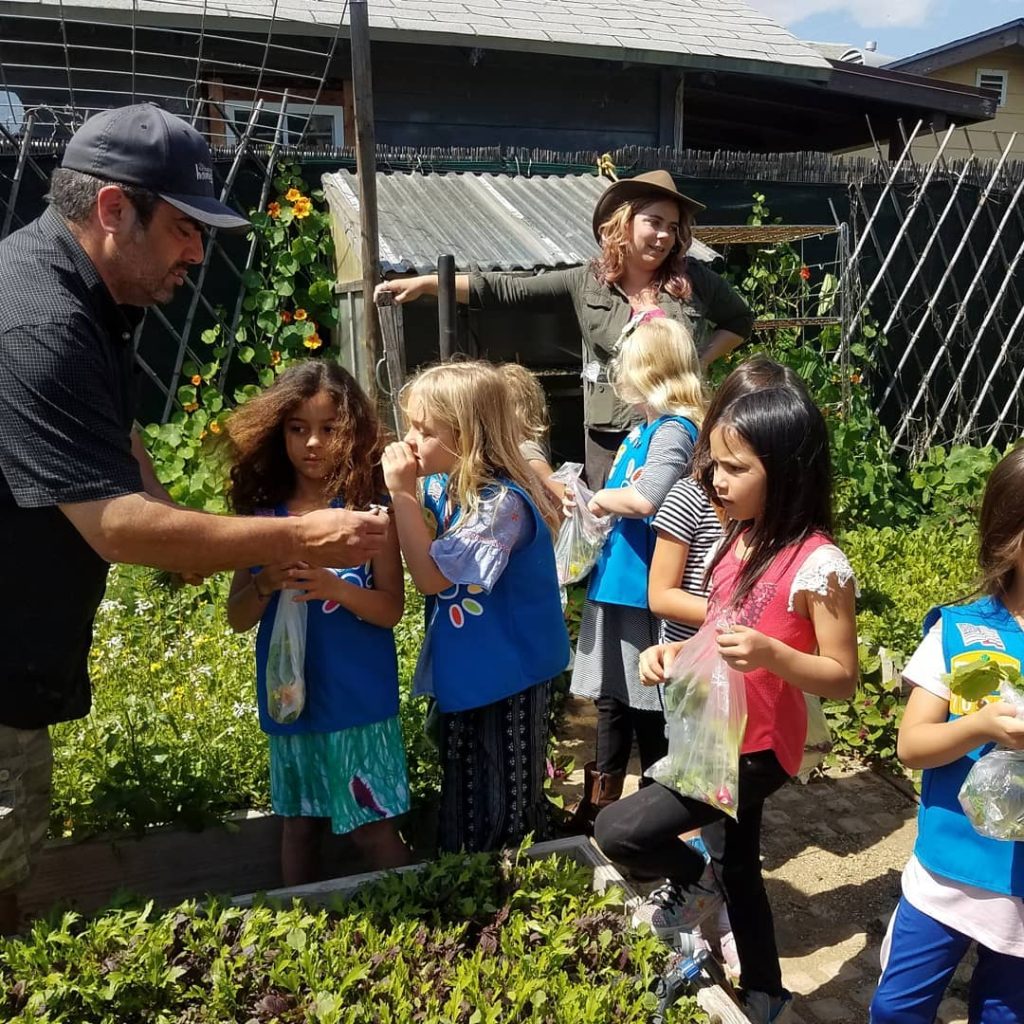 Urban Farming Challenges
"There are challenges to growing in an urban setting. "
We're dealing with close proximity of things. It's not really open space. We have our neighbors' trees, our house shade—actually things that grow too well," Dervaes said, and as the shadow circle expands, it limits what can be grown in a small space.
"It's ever-changing. Things grow well, things don't grow well," Dervaes said.
It's a challenge to stay on top of things farming in a small space.
Agritopia is a homestead that morphed into a thriving village centered around an urban farm in Gilbert, Ariz. The original farm was converted from desert in 1927, according to Joe Johnston, self-titled "visionary" of the community.
Johnston's father bought the farm in 1960 and raised cotton, wheat and other row crops. The Agritopia community started in 2000, which includes the farm, a residential park, school, assisted living, community garden, Joe's Farm Grill and a group of businesses.
Out of the 160 acres, 12 acres are farmed organically in row crops, community gardens and orchards—citrus, date palms, olives and peaches. The climate in Gilbert allows crops to be grown year-round. "Arizona has got a fantastic climate," Johnston said.
The farm grows about 80 different crops that go into spring mix that goes to the restaurant and the orange juice that is fresh-squeezed from the orchard, CSA customers, farm store and about five different restaurants.
Farm to Table
While some restaurants completely center their menu around the produce of the day, Joe's Farm Grill maintains a consistent menu, which means they use only a percentage of produce from the farm, and it varies over time.
"Certain things we're able to run almost eight months of supply from here (the farm), and other things, they're just short windows," Johnston said.
"For example, onions are harvested in May, and then maybe there's a two or three month window where we can use those," Johnston said, adding he tries to use as much as he can that's in-season within the confines of the menus that he creates.
Joe's Farm Grill opened in 2006, and the restaurant was doing well, then it was featured on Diners, Drive-Ins and Dives (DDD). DDD first aired about 12 years ago, and at that time the restaurant was on a nice growth curve. Being on DDD really catapulted it into solid profitability, Johnston said.
On the 10-year anniversary of that airing, the show did a DDD Nation where it came back and revisited the restaurant to see how they were doing.
DDD is the gift that keeps on giving, Johnston said. Johnston estimates about 10 percent of its customers are vacationers. Many will mention they saw the restaurant on DDD. There's also a lot of people who do specialty travel and visit the DDD locations in the Phoenix area, Johnston said.
Johnston said Agritopia does its CSA a little differently. "It's almost like going to the grocery store. The sign says you take two of these, take three of these, so they assemble their own box," Johnston said.
Half shares are available for couples, and there are add-ons like eggs and bread. A friend provides the eggs they sell, and a local vendor provides the bread.
Agritopia also has "you-pick" citrus and peach orchards. All the lower fruit in the orchards is you-picked, and the upper sections of the trees are harvested by workers for the restaurant and CSAs.
The farm manager is planting a tomato you-pick section. Tomatoes are a good opportunity because they grow low to the ground, Johnston said.
The farm harvests during the week, Johnston said, "But on weekends, we'll do you-pick."
"For us, as farmers, it's great because we don't have to then have harvesting labor because they're doing it," Johnston said.