Highlighting the most available figures from the United States Department of Agriculture's National Agricultural Statistics Service (USDA/NASS), in 2016, the United States have 14,217 certified organic farms that produced $7.6 billion in certified organic products. Of those 14,000 certified U.S. organic farms, Arizona had 38 of them.
Sound like small numbers for this desert state? Maybe. But when you consider that one of the largest certified USDA Organic farms is in Arizona (Duncan Family Farms) and that we're planting and harvesting 365 days out of the year, this southwest state does pretty darn well with the organic farming effort. And, it's not over yet. Wait until USDA/NASS releases their latest certified organic numbers soon.
Of those 38 certified organic farms in Arizona, $117.8 million in certified organic products was recorded by NASS. Of the 33,183 acres of certified land in Arizona, 27,063 acres were cropland and 6,120 acres were pastureland or rangeland. The top two certified commodities sold in Arizona, according to NASS, were spinach with sales valued at $24.7 million and lettuce with sales valued at $18.8 million.
Another caveat to these numbers, USDA/NASS isn't counting those farms adhering to most of the organic practices but simply are not certified. So, our numbers could be much larger.
These numbers mean something, but the real story to dig in on is down on the farm.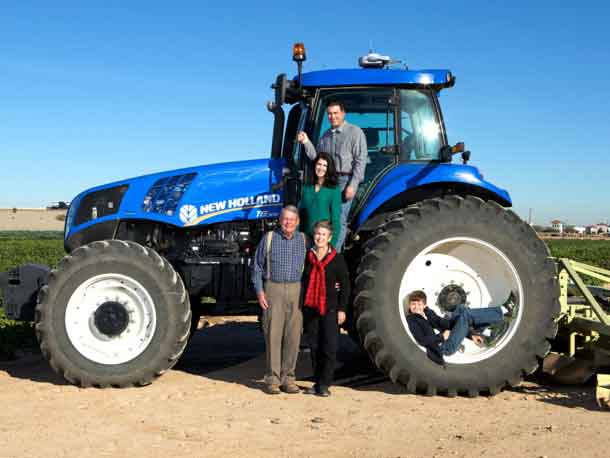 Organic Farming Came Naturally to Arizona
Recently interviewing Mark Schnepf, owner of Schnepf Farms in Queen Creek, Arizona, he said, "We have a mini-Sonoma Valley feel going on here." He was referring to the cluster of U-pick, agritainment farms clustered all over Arizona.
Their main crop is their organic peach orchard that provides a u-pick setting during harvest season. "We grow eight different varieties at the farm," Schnepf explains. "What I consider to be the two best include Early Grand and Florida Prince. Peach trees can get up to 15 feet tall if you let them. But we never let a tree get that tall to ensure a fruitful u-pick experience. We trim from the time our trees are little and we shape our trees so that ladders are not needed by the public. Ultimately trimming the peach trees so they're low to the ground and you can reach all the peaches by just standing on the ground and picking the fruit."
Peaches from Schnepf Farms have been named and featured in Wine Spectator Magazine as the best in the country and for over 50 years, the Schnepfs have continued to extend their season by planting more orchards with different varieties. Besides their two other peaches, peaches like Earligrande, Springcrest, and Florida King are all popular varieties that grow extremely well in the Desert climate.
Schnepf's Peach Season begins before any other location in the United States. It's an incredible season that typically lasts six to seven weeks! The different varieties ripen at different times which means customers must plan accordingly.
The Schnepf Farm peaches are their number one crop. So, they are very particular about the way they care for their trees and even open the farm up to the public. They used to have a "Peach Festival." In the first year, they picked the orchard clean in three hours. It got so big, and the peaches become ripe at various times thanks to mother nature, they decided to spread it out and not feature a festival.
The interesting story behind the generational Schnepf family farm is that it started out years ago as a very traditional farm: cotton, wheat and alfalfa. Mark Schnepf and wife, Carrie, saw an opportunity in the market and went for it. Today, their farm is nationally recognized.
And, their story isn't unusual.
Another Success Story Comes From Robert (Bob) and Marsha McClendon.
Local and organic sells better than either one alone. Just ask Bob and Marsha McClendon, members of Arizona Farm Bureau and owners of McClendon's Select; a retail/direct-market farm. They're so niched and specialized, they shake their own heads at how strong the demand is for their product.
Bob and Marsha, along with their son Sean, his wife, Kate, and their grandson Aidan grow exclusively USDA certified organic, all local, on a limited amount of acres and mainly to chef-owned, chef-directed restaurants, never to chain restaurants. They sell directly to the public at two Saturday Farmers' Markets, Uptown and the Old Town Farmers' Market during their growing season. They started selling at the Town and Country Market more than a 17 years ago, and forged relationships with customers and chefs that have lasted and grown ever since.
"We only wanted to work with restaurants that are passionate about using organic, local produce," says Marsha. They have developed such a following of such chefs that the farm now has a waiting list of restaurants wanting to do business with them. Beginning with 25 acres, Bob says, "We continue our quest for excel­lence even as we expand our acreage."
They sell citrus, vegetables, dates and honey, along with many specialty items that are in high demand from chefs and market customers, like heirloom tomatoes and baby greens. During the season, they grow more than 200 kinds of fruits and vegetables. It is their relationship in working with chefs to find their needs that have led them to try new crops, such as Yuzu, Gilfeather Rutabaga, Spigariello, and Sun Gold Tomatoes.
Arizona has only a handful of growers catering exclusively to chefs and the resort market, but the niche is lucrative. Others in the business describe the same kind of customer waiting lists and a clientele that may call up one season begging and pleading to have a new type of veg­etable to feature for a restaurant's seasonal menu.
If there is anyone that knows about farming in the direct-market segment, it's McClendon.
"Direct-market sales directly to consumers of any kind of food item that's locally grown continues to be popular," says Bob. People more and more want to know where their food comes from. Customers are even focused on how the food is packaged. For example, I sell honey. Many of my customers would prefer to purchase honey in glass bottles. So, I sell my honey in glass and plastic containers."
And, while Arizona has plenty of organically-managed farms, McClendon is a serious advocate to the USDA Certified Organic label. Here's why.
"First, the term organic can't be used unless it's USDA certified," explains Bob. "There's another group called Certified Naturally Grown. Right now, you can go online and get your backyard certified Naturally Grown. They use the good ole boy approach where Sam Jones wants to be certified and he calls Phil Roberts who lives a mile down the road to come by and say, "Oh, yes, you're certified." They claim they are the same standards as the nationally certified organic standards, but the big difference is there is no independent third-party inspection and review. It's a way to get around the USDA Organic certification without the expense, the trouble and the compliance."
He adds: "The value in the USDA Certified Organic program is that the public has a great deal of trust in it. It's the only standard that they can hang their hat on. They know with a high degree of trust in this program they are getting a true (organic) product. Plus, the penalties for non-compliance can be really stiff. From the time we became USDA Organic certified our business has grown exponentially."
Bob McClendon even has marketing advice for the organic farmer, especially those just starting out and struggling with managing the business. "Live the business," he says. "Get to know your customers. Define the market and cater to that market and meet that market's needs. If they go into a farmers' market and see an opportunity they first need to assess the status quo and figure out how to do it better. (The aspiring direct-market farmer) must ask how they can offer something different, something better; high quality. Sometimes, it's the simplest shifts in how they are doing something, for example, if they'd just keep something cold by packing the produce in ice. If not, within two hours you will have a wilted product but don't expect to sell it.
"Customers want to see and know who grew their stuff. As a result, either Sean, my son, or I are at the market. Don't send the hired help to put out a bunch of stuff to sell. Direct-market farmers also need to have an educational mindset. If they put out a variety of produce they should be prepared to tell people how to cook it because they'll ask you. They'll also ask how to cut the produce. We people that work market hours to talk to our customers about cooking and recipes. It's the educational part of what we do. If our customers know how to cook something, they want to know a different way to cook it."
Today, McClendon's Select has grown. Their 93 acre operation included growing crops on 68 acres adjacent to the Cancer Treatment Centers of American in Goodyear, Arizona.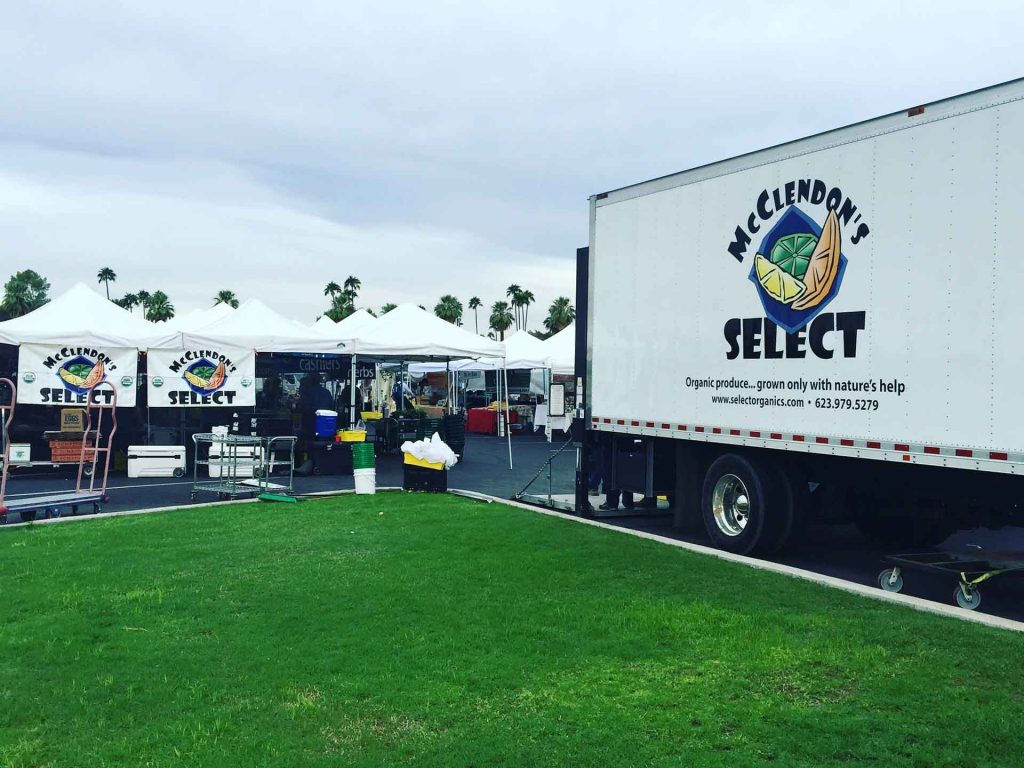 Helping Arizona Families Connect to Local and Organic Farming
We've all heard the statistic: by 2050, almost 75 percent of the world's population will be urban. And most of us, including Arizona families are generationally removed from the farm even though America began very agrarian. So, if American families have no contact with the source of our food other than eating it, we have a real challenge with making a reconnection.
Arizona Farm Bureau realized the importance of this and set out to make a difference. The opportunity to meet a modern-day farmer growing food for the local market is not a difficult connection to make if you think creatively. We did it through Fill Your Plate.
Fill Your Plate is an online, searchable database of Arizona farmers and ranchers that can sell food products and certainly local Arizona food directly to Arizona families. We stay Arizona focused. Two other searchable databases include recipes and our statewide listing of farmers markets. And, the majority of farmers featured on Fill Your Plate are organic growers, certified and non-certified.
Launched in 2007, Arizona Farm Bureau's Fill Your Plate serves to help form a unique relationship—a common bond—between Arizona farmers and ranchers and Arizonans. In fact, it's one virtual way to build community! Fill Your Plate provides chefs and our Arizona families with an opportunity to find and purchase locally grown food and along the way make friends with the farmers and ranchers who grow our food.
One of our regular Fill Your Plate users, Arizonan Janel Rogers and mom of three, said, "The wealth of information I can find at this website, including their weekly blog is so useful and why I use it regularly."
On the site, viewers have all sorts of entertaining opportunities to engage beyond just the searchable produce-based database. They can search for recipes, read what local celebrities are saying about food and view a number of the videos we've produced for the site. We even provide information about how food prices are trending and nutritious tidbits that highlight Arizona fruits and vegetables and meat products. It's a cornucopia of insights that once you've begun to use Fill Your Plate your mouth will water in anticipation of biting into an Arizona apple or barbequing some of Arizona's famous and tasty beef.
Our Commitment to the Organic Farmer
Arizona Farm Bureau has more than 25,000 members. Of that number, about 2,700 are agriculture members. And, we represent all agriculture. Our farm and ranch members are small, medium and large, organic and conventional and they grow and raise just about anything you can imagine. Our organization is a big tent and works for organic and small producers, especially because of the challenge's beginner farmers face. Farm Bureau provides financial services and asset protection for all sizes of operations and any type of production. This, because the agriculture in Arizona is so diverse.
In fact, Shane Burgess, dean of the College of Agriculture and Life Sciences, the University of Arizona calls Arizona the "Nutrition State." His main point in calling Arizona a nutrition state is because we can grow almost anything with our 300-plus days of sunshine, letting us plant and harvest every month of the year.
But, why does Dean Burgess call Arizona the nutrition state? "When you take a look at what contemporary science considers our optimal diet for physical function and our ability to think and learn (often described as a Mediterranean or Okinawan diet) it looks a lot like what is produced by Arizona agriculture," he says. "Imagine we were to stop food imports to Arizona and so we could only eat what we produce here; how would we feel about that and how healthy would we be? We come out pretty well (arguably better off than many of us are today)."
Burgess goes on to talk about the market segments in agriculture in this state. "Not only is this about what products Arizona produces but what market segments it delivers into. For example (and with apologies to those I miss), if you are like me and care about sustainable optimal production with lower water use and minimized pesticide application you can get transgenic (GMO) crops; if you want to have certified organic food you can get that; if you want "local" you can get that; you can chose grass-fed or grain-fed; if you want "heart-healthy," that's no problem. If dairy is your thing—no problem. If you want salad at Christmas dinner—sure, have at it at bargain prices with negligible "carbon miles." If you want some great wine or beer, you can get that. We even have exceptional aquaculture production. Of course, this will require some actual cooking and families eating together.
"Obviously, I am not actually suggesting or advocating we carry out this experiment; it's simply one way to visualize the amazing diversity of primary production Arizona possesses. We are not the biggest farm and ranch state by any means, but there are few that can boast what we can deliver to a table and to lower health care costs."
And that is what makes Arizona farming and ranching so special, especially our local, organic farms that are growing such an array of agriculture that the list of products goes on and on.