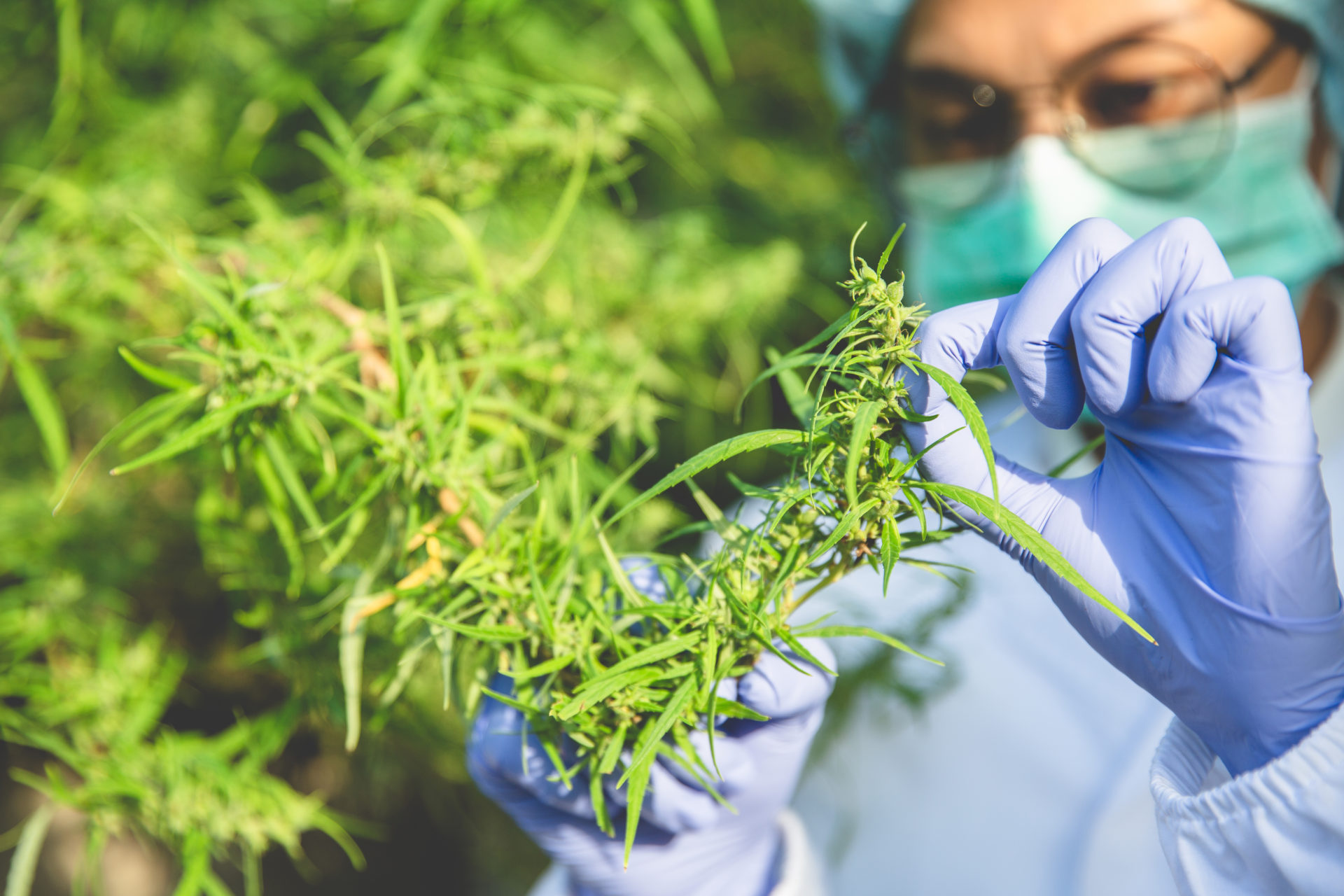 Although CBD oil is the prize most hemp growers currently have their eye on, there are an estimated 25,000 uses for hemp – from building materials and biodegradable plastics to rope, sailcloth, cosmetics, clothing, and paper. Hemp has been around for centuries. President George Washington grew utility hemp on his farm; the rough draft of the Declaration of Independence is rumored to be written on paper made from hemp.
In the U.S., hemp was a growing concern during the 19th and into the mid-20th century. In 1970, hemp was outlawed, and shortly afterward most of the hemp research work done by US universities was destroyed. With the passing of the 2018 farm bill, hemp was once again legalized at the federal level, so western universities such as UC Davis and Oregon State University have again formed hemp research programs. Soon there will be a vast network of land lab research results available to assist farmers in hemp cultivation.
OSU Research
OSU had a hemp research center from the 1880s until the 1930s, back when the university was Oregon Agricultural College. After shuttering the program for decades, a new hemp research department, The Global Hemp Innovation Center, has reorganized. The program has 10 research sites around the state, and partners with four research centers in Asia and Europe with similar climates.
OSU has also launched seed certification services for hemp. The certified seed is planted by farmers registered with the state. OSU is the only university in the nation to certify hemp seed. Currently in Colorado, North Dakota, and Tennessee, only state departments of agriculture certify hemp seed for use in each of those individual states.
Oregon's location on the 45th parallel makes for ideal hemp-growing conditions. Hemp production is rapidly expanding in the state. In 2018, there were approximately 7,000 acres planted in hemp. In 2019 that number grew to approximately 50,000 acres, edging out Montana and Colorado. Estimates put Oregon in first place in US hemp production. Oregon CBD growers are aiming for 500,000 acres of seed sales by 2021—a $1 billion yield.
But California is closing the gap. With labor and growing costs continuing to rise in the state, many California farmers are turning to hemp as a go-to crop. And the race to be the leading state in hemp production is on.
UC Davis Research
The California Hemp Corporation, located in Oakdale and formed by Jeff McPhee and Kent Kushar, has partnered with UC Davis to study hemp growth in the California Central Valley. The team wants to help turn the Central Valley into the hemp capital of the country. McPhee predicts hemp production will "change California."
Director of the Plant Breeding Center, Professor Charlie Brummer is leading the research project at UC Davis, which was launched in 2019. Dan Putnam is the head of field testing. The project, which is breaking new and significant ground in the UC system, aims to gather data to help farmers successfully grow hemp in the California Central Valley. The intention is to create a significant hemp breeding program, "for what may be the most important crop in a generation," Brummer said on the research website.
Associate Professor Li Tian, Co-Director of the UC Davis Cannabis and Hemp Research Center, was appointed to the position in January 2020. She is looking forward to diving into the brand-new research and being part of the role the university can play in assisting the industry. Tian's research focuses on how natural chemicals with benefits for human health, phytonutrients, are created and controlled within plants.
About hemp, Tian said, "This is such a new industry in California and nationally, so it's really exciting to apply our expertise to studying this crop."
Tian has been reaching out to the other UC campuses with shared research interests. The university system is looking at how air temperature and other growing conditions affect crop yield. Researchers are also looking into the regulation of hemp production, the agronomy, and the environmental impact.
"We still need a lot of research," Tian said.
COVID-19 has somewhat affected the program. Tian said when Governor Newsom's stay-at-home order came, the university team couldn't entirely stop their research and risk losing all that work. But the researchers did reduce their activity, along with the scale and intensity, strictly following the state, local and university guidelines, she said.
Plants to Products
Another new research program through the Department of Plant Sciences at UC Davis is Cannabis and Hemp –Plants to Products. The program is led by Professor Gail Taylor. Researchers are looking into the potential of hemp and cannabis.
"We are focused on molecular and traditional approaches to genotyping, phenotyping, pre-breeding and breeding for bespoke chemical signatures that may be of value to the pharmaceutical and other industries," the team states on their website. "We have expertise to address the environmental impact of cannabis and hemp cultivation, particularly water, pest, pathogen and greenhouse gas impacts, and can offer advice on minimizing these environmental footprints."
The team is open to inquiries from outside agencies who wish to partner with them. One such partner is Biopharmaceutical Research Company.
"It's really in its infancy," Biopharmaceutical Research Company CEO George Hodgin said of the cannabis industry. "Crops like apples and strawberries and bananas have such a long history of research."
Hodgin said the main thrust of their research business is providing federally legal cannabis to federally approved researchers, both for university and medical research. Cannabis regulatory requirements are often challenging hoops to jump through, so Hodgin's business model assists with that.
California hemp growers are required to have a DEA-licensed laboratory test their product two weeks before harvest to make sure CBD levels are low enough. If the levels are too high, the crop must be destroyed. Biopharmaceutical Research Company provides DEA and USDA compliant hemp processing services to California hemp growers.
Even if California doesn't bump Oregon out of the number one spot in hemp-acreage production, hemp grown in hot and dry weather regions like SoCal does tend to produce higher levels of CBD.
CBD levels were down in the Pacific Northwest and other areas around the country in 2019 crops, according to James Knox, owner of KLR Farms. KLR is a multi-state business, headquartered in Albany, Ore. Knox's operation grows hybridized and feminized hemp seed and ships worldwide. There was a 24-35 percent depreciation in CBD content last year in most regions, Knox said. However, CBD levels in SoCal grown hemp crops were up.
Hemp Co-ops
Growers' programs for hemp farmers are also cropping up. In 2019, a team of experienced researchers, growers and business professionals formed the Imperial Valley Hemp and CBD Program (IV Hemp) to facilitate the success of hemp growers in SoCal and surrounding areas.
IV Hemp is a co-op designed to help farmers successfully grow, harvest and sell hemp "from seed to sale." The grower's program offers special seed prices to farmers who grow through the program. Among other benefits is a partnership with a CBD oil extraction facility in the Imperial Valley and help with biomass transport, if needed.
Even though cannabis research is once again new, hemp production isn't waiting – it continues to expand. An analytics firm called the Brightfield Group is tracking the cannabis industry. According to their data, the CBD market is expected to grow from $618 million in 2018 to $22 billion by 2022.